JLo is is impossibly gorgeous, and has been for quite some time!  Like many celebrities she has a small village, or glam squad, that keeps her looking picture perfect at all times.  That can discourage ladies like us, but don't fear!  There is a way to get this look on your own, and it's pretty simple!  I'm going to take you through the step by step process.
Apply your eye shadow first, especially if you're using darker shadows.  That way you don't have to worry about them getting smudged on your face and ruining your foundation!
Then, prime your skin.  Doing so will help your makeup glide on a lot smoother and help it stay put!  Lately I've been using this Maybelline Baby Skin primer that I picked up from Ulta.
Now apply your foundation to give you a nice base to work with.  I like to use this Make Up For Ever HD foundation as my base, and I apply it with a beauty blender.  You want to use a thin layer to simply even out your skin tone.
Now, it's time to apply the highlight!  I use Black Opal foundation sticks to highlight and contour.  You can use whatever products you want to highlight and contour.  For your highlight you'll want a product that is about two to three shades lighter than the foundation you wear.
I apply my highlight with a concealer brush under my eyes, down my nose, and on my chin and jaw line.  Everyone's face is different, so the highlight and contour areas will be different.  Here's a handy face chart I found on Instagram to help you figure out where you should place yours!
After you've got your highlight on you'll need to blend it into your foundation.  I use a micro mini beauty blender for this part!
Then, I go over it with a stipling brush to make sure everything is blended.
Now, set it with a translucent powder. I've been using this one by Make Up Forever for a while, and I'm in love with it!
Next, apply a highlight powder.  Ben Nye's Banana Powder works great for my skin tone, but you can use whatever works best for you.  You want to use a powder that does NOT have any shimmer in it.  I apply the powder using an angled sponge.
You'll look crazy, but that's okay 🙂
Let it set for a few minutes, and then wipe away the excess.
Now, it's time for your contour!  Again, use a color two to three shades darker than the foundation you wear.  This picture didn't come out too clear…but it's the color at the bottom.
Use the face chart above to figure out where your contour should go.  I use it on the hollows of my cheeks, along my forehead, down my nose, and near my jaw.
Now blend, baby, blend!  I use a duo fiber brush by real techniques for this part.  It helps me blend flawlessly.  I go over my face with the stipling brush once more to make sure everything is blended well.
Set your contour using a pressed powder.  This one is by Make Up For Ever.
Apply blush to the apples of your cheeks and blend up toward your temple.
Now, it's time for the GLOW!  I use this mineralized skin finish by MAC.  You'll want to place it on your cheek bones, a dash on your forehead, a dash at the tip of your nose, and a dash on your chin.
Wah-laaaa!! You're done!  Here's what everything looks like:
…and after I finished my eye make up and did my brows:
….and without that yucky bathroom lighting 🙂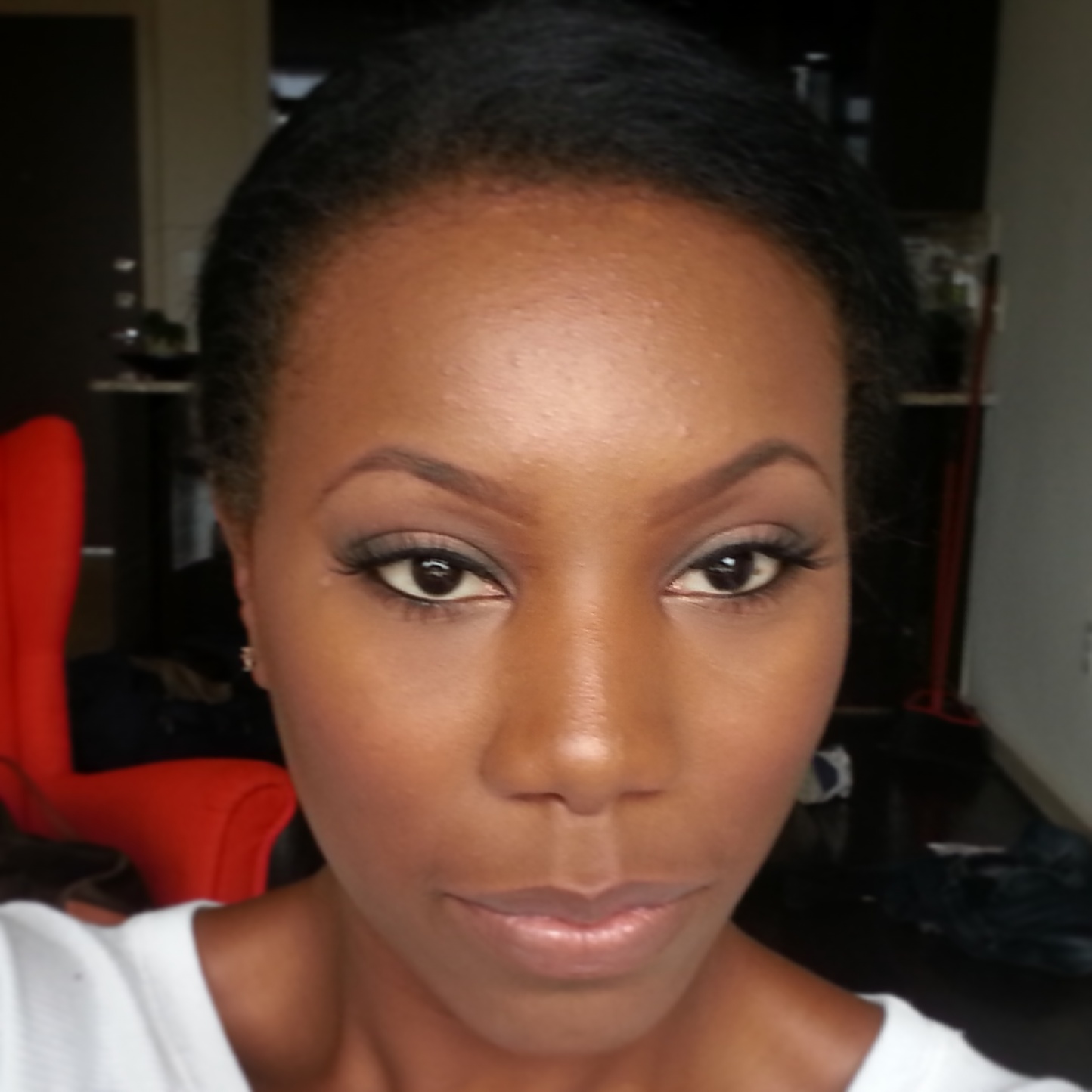 Let me know if ya'll try this out!! I'd love to see your pictures 🙂