Ah, the custom closet. I have dreamed of having one for so, so, very long. When we got the keys to our house one of my first calls was to a closet designer.
Designing Our Custom Closet
I had consultations with two closet design companies. I chose to go with Inspired Closets. Our designer came to my home, measured the closet using a laser (which was so cool!), and asked about our needs for a custom closet. I have quite a wardrobe, and my main goals were to have more organization and efficient use of the space. Brent wanted drawers. He never really explained why, but since he let me pick everything else, I was happy to include them in the design!
Our original closet had a wire shelf system. What I didn't like was that we couldn't use the bottom shelves, since our clothes hung too low.
I also felt like we didn't have the right combination of short and long hang space.
Our designer took into account the amount of clothes and shoes we needed to store, our heights (so the bars would be high enough), and any additional features we thought might be helpful. We added cabinets above our drawers, hampers for both of us, and jewelry storage for me.
Now, This is Where it Gets Expensive
There are so many additional upgrades! It's easy to get carried away, or as I call it, closet drunk. One big decision was whether we wanted the closet wall mounted or floor mounted. Essentially the difference is whether it looks built in at the bottom, and a couple thousand dollars. We decided to go with a wall mount and save our coins!
We also could have added a countertop above our drawers, and mirrored the wall behind the opening. The answers were no and no! While they're nice, at the end of the day it's just a closet, and we won't be spending tons of time in there.
Preparing for Installation
With supply chain issues, we waited about three months for our installation day. When the time arrived, we had to prepare the space.
Ripping out the existing closet seemed simple and easy enough. Famous last words! It wasn't a nightmare, but it took a lot longer than we thought.
We had to rip the studs out of the wall that were holding the wire system together. We were left with larger holes than expected, so they needed to be patched. When we installed a new light fixture I realized the closet wasn't really as white as I thought. I wanted a crisp background for the installation, so we painted the walls, moulding, and ceiling.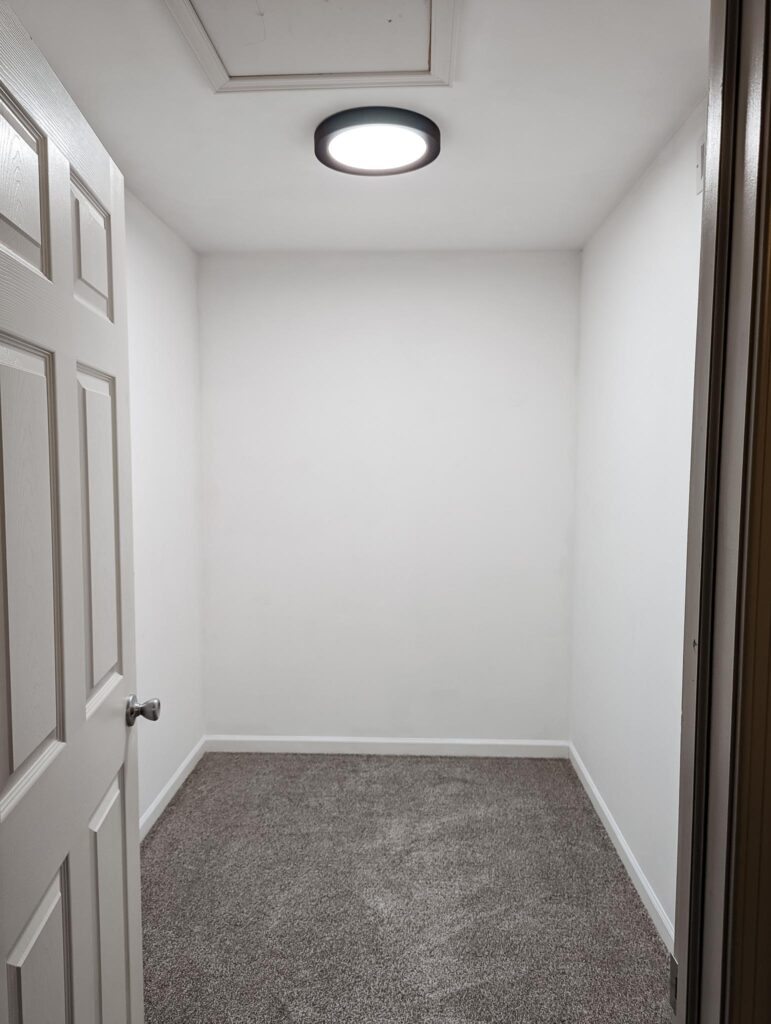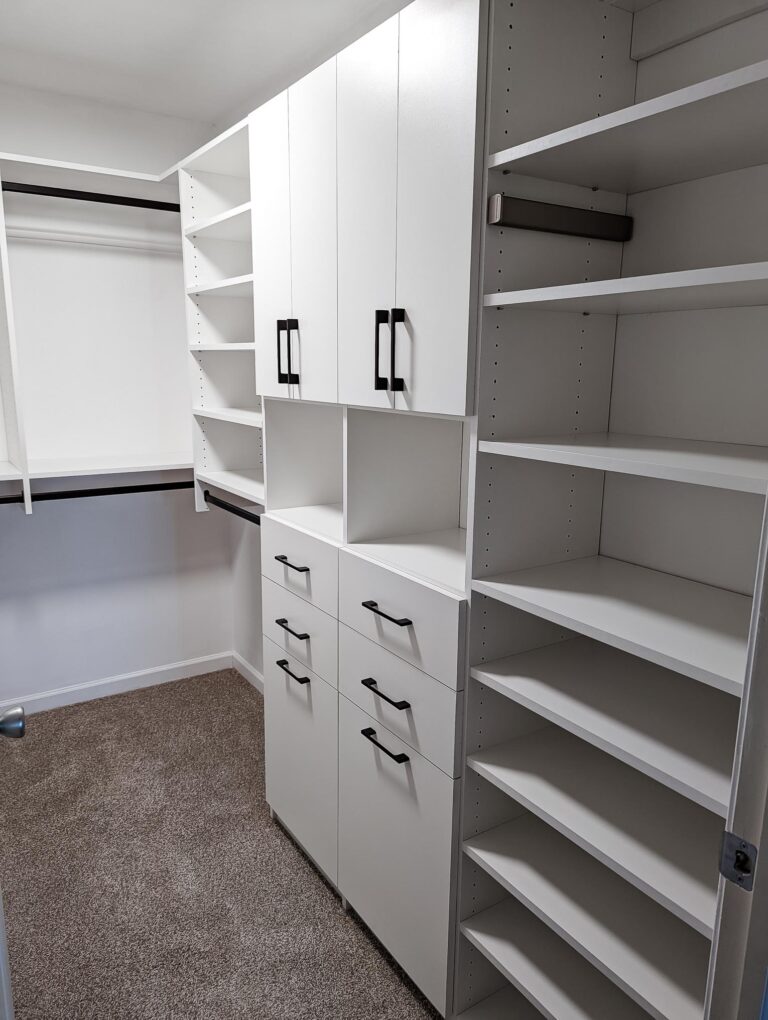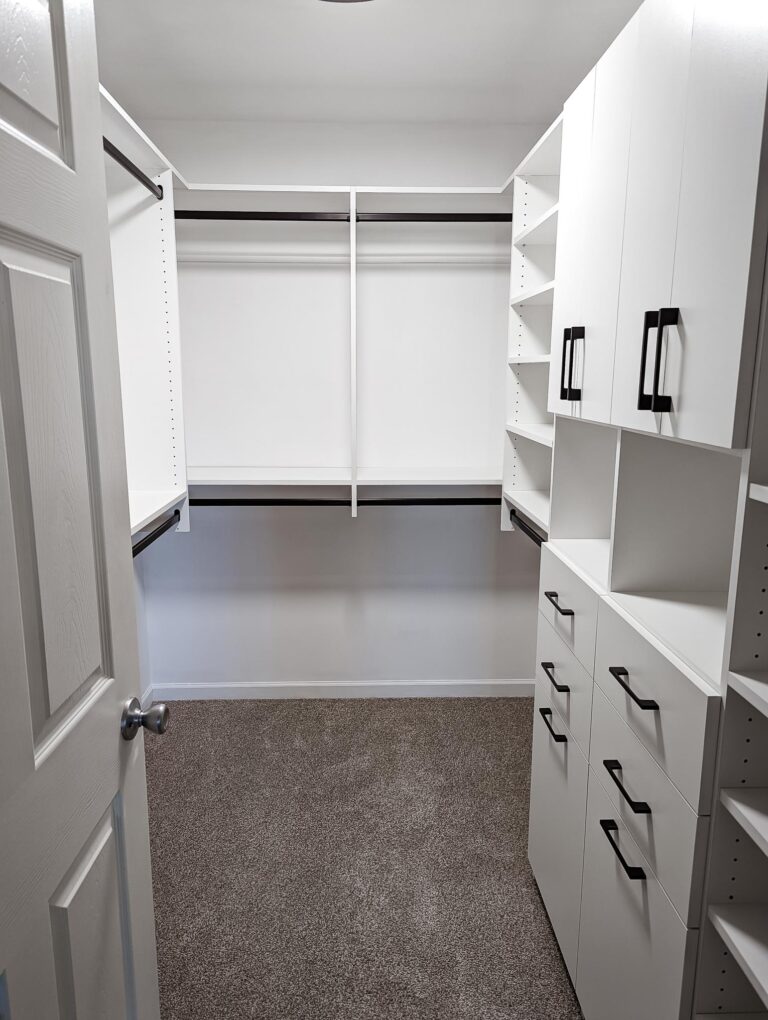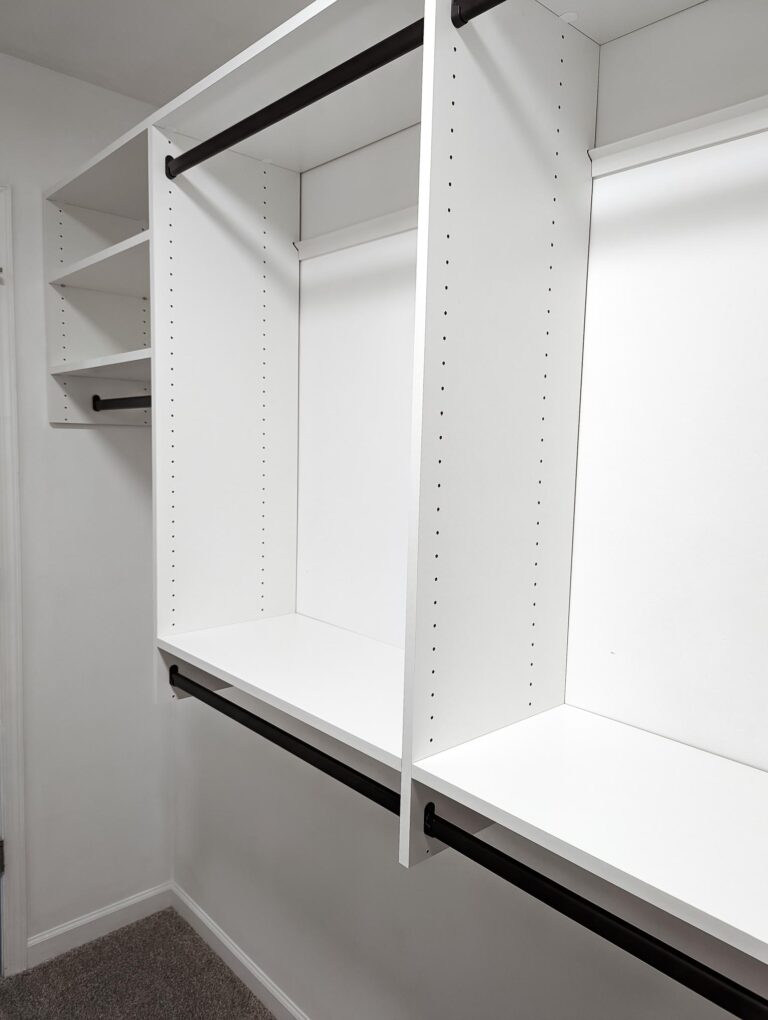 Installation Day!
Two gentlemen arrived with all their supplies to install our custom closet. The installation took about four to five hours. They used a drop cloth to protect our floors as they went up and down the stairs. In addition to that, they vacuumed when the work was done.
What a beauty!! We were in awe! The space looks so much bigger. Plus, we're able to stay organized which is a major bonus. I'm still playing around with where I want everything, but every time I walk in there I'm so happy we went with a custom closet!
What do you think about the transformation? Let me know in the comments!