There's an art to choosing your perfect match. Actually, it's more like destiny, sorting through a maze of dozens of items that seem to be the same in an effort to find the one that stands out. I found mine at Whole foods, and for a steal! My beautiful pumpkin soul mate only cost me $5 – and I think it gave me the edge in this pumpkin carving contest!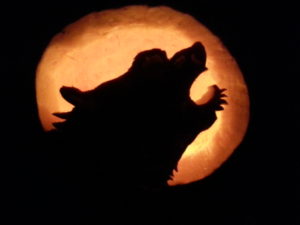 Getting Started
Brent and I decided to turn pumpkin carving into a contest.  We can turn just about anything into a contest and both of us always want to win! We're just competitive like that! We started off by cutting small circles out of the bottom of our pumpkins. If you're like us, you grew up cutting the circle at the top. However, if you cut it at the bottom you can smooth the inside of the circle out, and use it to place your candle. It's a little easier than having to stick your hand into the pumpkin to light it.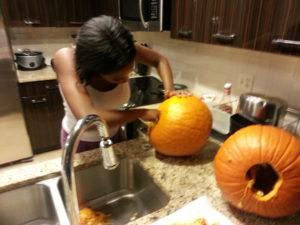 Then, we used our hands to scoop out all the gunk!  Can you tell this was one of my favorite parts?
After that, we used spoons to smooth out the inside.
Carving the pumpkins
Then, it was time to let our creative juices flow!  We used a permanent marker to draw our stencils on to our pumpkins.
Now, it's time to carve!  We used a box cutter and other small knives we had in the kitchen.  For my wolf I cut straight through the solid lines on the stencil I drew.  For the dotted lines I shaved down a little bit of the skin of the pumpkin.
Presenting our pumpkins
After about an hour of carving our creations were done!! Here they are with the candles inside: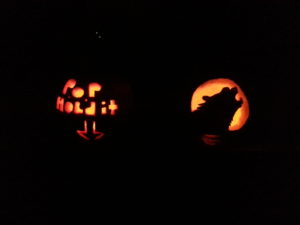 Brent's was inspired by Donna Goudeau of, "Mama I love you" fame. Here's the YouTube video of her that has gone VIRAL.
Mine was inspired by a phrase we always joke about when we're competing… are you going to be a sheep, or a wolf??  I used a Better Homes and Gardens stencil for guidance, but I drew mine on freehand.  It's not exactly like the stencil but I love how it turned out!  I used a little bit of water and a paper towel to scrub off the parts of my outline that were showing.  You can find the stencil here, along with a lot of other great ones!
Are you getting into the Halloween spirit by carving a pumpkin this year?  I'd love to see your creations!
Be sure to check out VIDEO of the 2020 pumpkin carving contest!