BoxyCharm November 2020 Unboxing
This post was done in partnership with BoxyCharm. The BoxyCharm December 2020 box was gifted to me. All opinions are my own.
The November 2020 BoxyCharm base box is here and as soon as I opened it I was in LOVE 😍. BoxyCharm gifted me this box, which retails for $25. According to BoxyCharm the products inside are worth $160.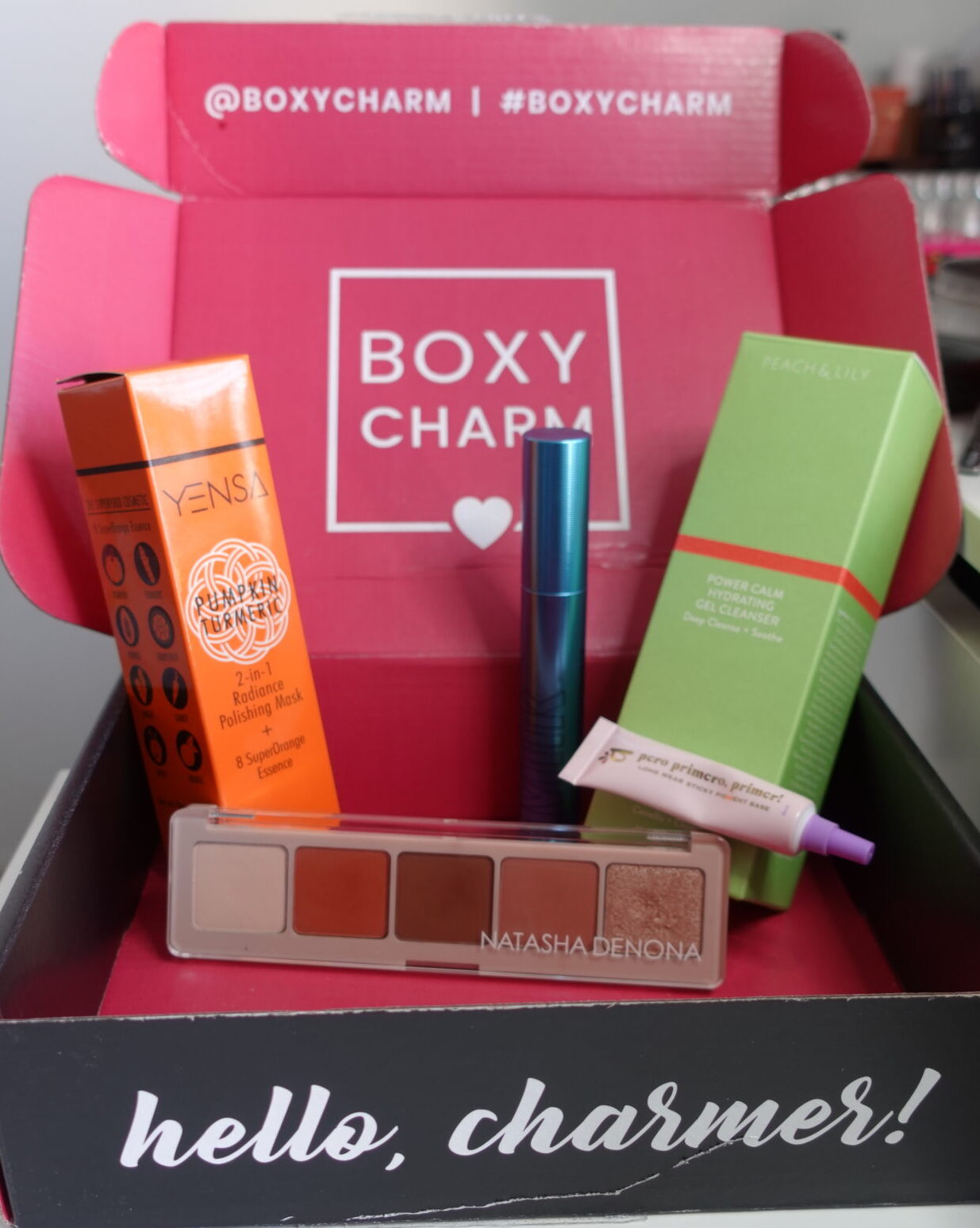 Makeup in the BoxyCharm November 2020 Box
First, let's get into this Natasha Denona Peak Palette. It is beyond gorgeous - featuring five warm-toned shades that are perfect for fall. The palette includes four matte shades and a beautiful gold shimmer. Natasha Denona's mini palettes, which feature five shades, retail for $25. However, each pan is .8g. The pans in this palette are 2.5g, making this a really great value. The shadows have great pigment, they're super buttery and blend really well. Fallout was minimal. This palette is EXCLUSIVE to BoxyCharm, so the only way to get it is to get the box!
I used the palette with the Alamar Cosmetics Pero Primero, Primer! Long Wear Sticky Pigment Base ($15) included in the box. This primer is BOMB
. It's super tacky so I think it would work well if you wanted to hold some small loose glitter in place. I loved that I was able to mix it with my concealer to customize my shade and it maintained it's tackiness.
I finished my eye look with the Milk Makeup Kush Waterproof Mascara ($24). This mascara has thickening, heart-shaped fibers, and conditioning hemp-derived cannabis seed oil. While it works well, I'm not a huge fan of the brush size. I focus my mascara on my lower lashes since I wear falsies. It was difficult to coat my bottom lashes as much as I wanted to because of the larger brush size. The packaging is BEYONDDD though - I don't think I've ever been more in love with a mascara tube!
Fall glam tutorial with the Natasha Denona Peak Palette
Skincare in the BoxyCharm November 2020 Box
To take it all off I used the Peach & Lily Power Calm Hydrating Gel Cleanser ($28). This cleanser is sulfate-free and doesn't contain any harmful ingredients allowing it to deeply cleanse the skin while maintaining hydration. It has a soft, clean scent and my skin felt softer after using it for the first time!
I followed up with the Yensa Beauty Pumpkin Turmeric 2-In-1 Radiance Polishing Mask ($45). This mask is packed with 8 orange skin-loving ingredients to help nourish and polish the skin. I felt a little tingle while the mask was on, but nothing uncomfortable. It also washes off like a scrub, you use circular motions for extra exfoliation. My skin definitely looked more glowy after using this and as an added bonus it smells like a fall harvest!
What do you think about this month's box? Let me know in the comment section!
Oh.... and I tested out the skincare products on my Instagram story - here's a replay if you missed it!